DYLAN SCHNEIDER
WITH OPENER AUSTIN BURKE
PRESENTED BY MIDAMERICA NATIONAL BANK
vip section presented by calpine wind



THURSDAY, JULY 11TH
7:00 PM
ticket office opens at 5:00 pm
GATES OPEN at 5:30 PM
TICKETS are on sale now!

TO PURCHASE TICKETS, CLICK HERE

.
Sponsored by Ed Hartwig Trucking and Excavating, Rumbold & Kuhn, Inc., Wilson Insurance, Castaways Chillicothe,
Embassy Suites - East Peoria, Sunbelt Rentals, Regional Media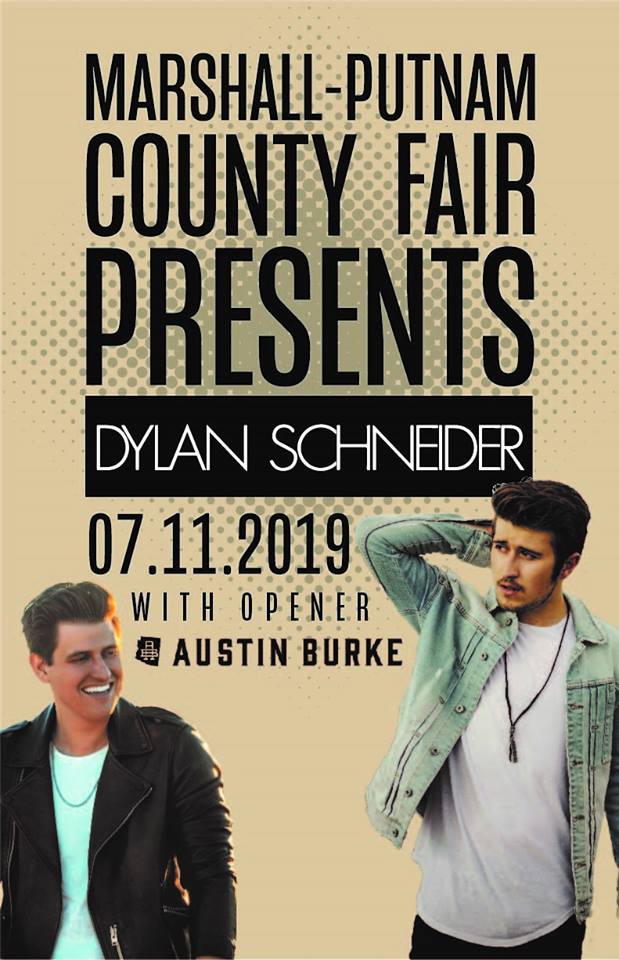 About this Event
This concert will be performed in the Grandstand of the Fairgrounds.

*VIP Tickets - $25
-Front of the Stage, VIP-Only Bathrooms, VIP-Only Bar

*General Admission: $15
-Infield and Grandstand with Track Access
*Reserved Seats: $20
-Please Call the Fair Office at (309) 364-2814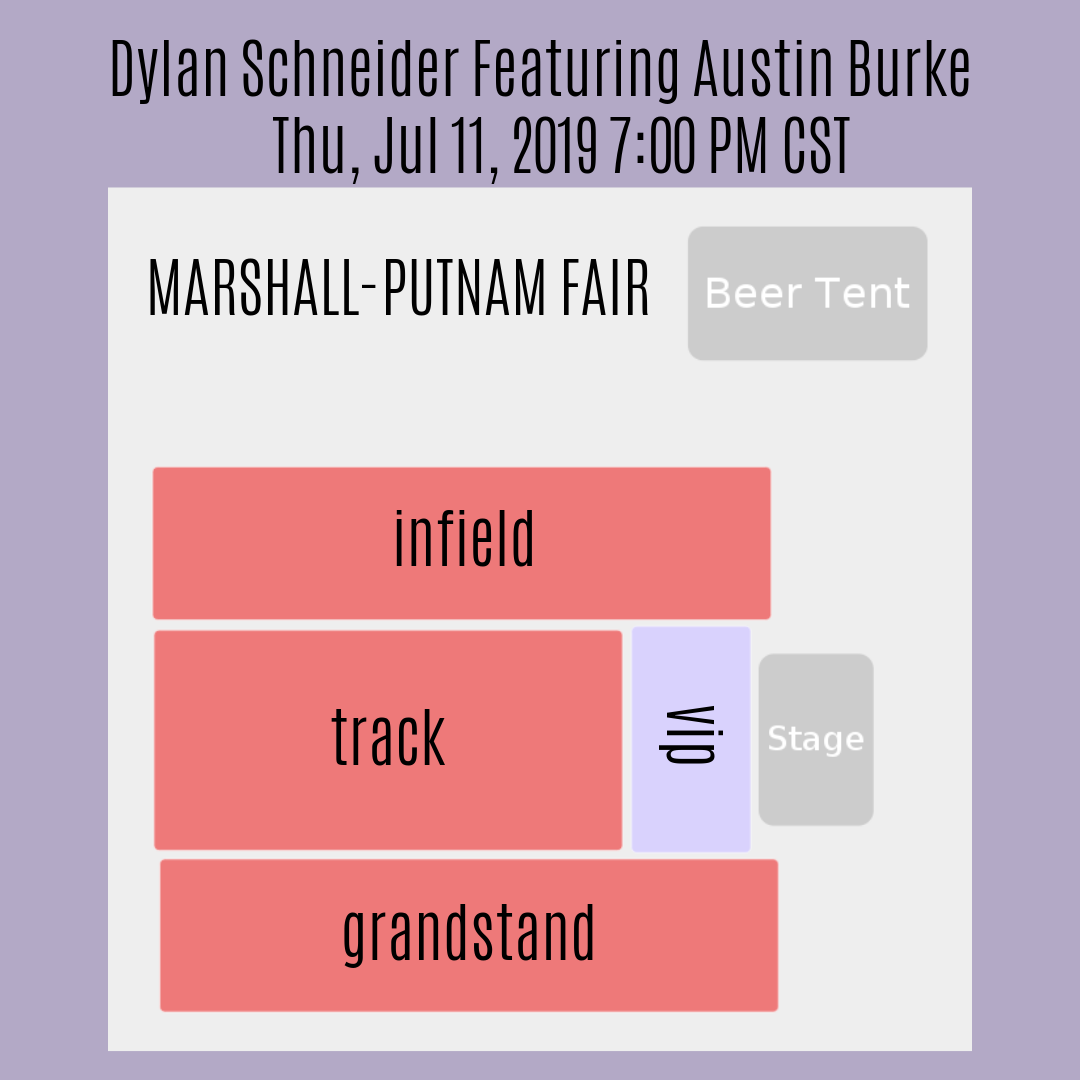 You almost never see an artist do this much this quick, especially in country music. Dylan Schneider is wise beyond his years, especially when it comes to his songwriting. But perhaps even more impressive is Schneider's ability and willingness to connect with fans on a personal level. "I used to freak out if an artist would respond or interact with me. It's incredibly important to me that I do the same with my fans." That love for fans has helped grow Schneider a collective social following of over 1,000,000. Named "country music's next rising star" by Billboard, the 18-year-old has spent the better part of the last two years becoming the epitome of the modern country artist.
Since his debut EP in 2016, Dylan continues to impact the country charts with every release that follows. Schneider's latest EP, potlight's On Yo hit the No.1 spot on the iTunes Country Album Charts. Dylan recently toured as direct support for Chris Lane and Granger Smith, and is currently headlining his own tour, selling out shows across the United States and the UK.
Schneider and his fans have taken over the country music conversation digitally, with a rapidly growing 57 million total streams on Spotify and 32 million video views. His current radio single, "How Does It Sound," is nearing 13 million streams, evidencing the consumer demand for the track. Each release finds Schneider surpassing his peers and connecting with his listeners in a meaningful way, strengthening the foundation he has been building for years.
With impressive projects in the works, Schneider's focus remains the importance of the fan. "At the end of the day, I'm nothing without my fans. When I write, I'm thinking, 'how is this song going to sing live, and how will the audience react and identify?' What I do, most importantly, is for my fans. My job is to connect and show them a good time." Whether it's his natural ability to write a genuine song or his ability to produce viral content, one thing is certain; the world wants more Dylan Schneider.


Austin Burke has been swinging for the fences since childhood. At age three, he fearlessly sang the national anthem for not one but two major league franchises in his hometown of Phoenix – the Diamondbacks and the Suns.
An avid fan of both baseball and music, Burke experienced the thrill of a lifetime when he met his musical hero, Garth Brooks, at a San Diego Padres spring training game. The chance meeting led to an invitation to cover "Friends in Low Places" on The Rosie O'Donnell Show, where Austin told Rosie he dreamt of becoming a "singing baseball player."
Austin pursued baseball through college, but he ultimately decided he wanted to step up to the plate with his music. He moved to Nashville at the age of 19, where he spent four years tirelessly waiting tables, writing songs and saving just enough money to record his debut single, "Sleepin' Around." Right off the bat, the song caught the attention of WME, who signed him to their roster and booked him as a support act for the likes of Vince Gill, Cole Swindell, Casey Donahew and William Michael Morgan.
"Whole Lot in Love," Austin's latest single, has catapulted him to Spotify stardom. The track currently boasts more than 45 million streams and has earned Austin the reputation of being one of the platform's most successful independent country artists. Both of Austin's songs have also been prominently featured on Sirius XM's The Highway.
Poised to become a heavy hitter in country music, Austin has all the bases covered – humility, talent, drive and passion. He's only going to continue knocking it out of the park as an artist.