The MARSHALL-PUTNAM County Fair Presents
Rodney atkins
With OpenerS brushville and cody calkins
THURSDAY, July 14th
7 P.M.
TICKET OFFICE OPENS AT 5:00 P.M.
GATES OPEN AT 5:30 P.M.
ADMISSION PRICES:

VIP: $35.00
Front of the Stage, VIP-Only Bathrooms, VIP-Only Bar, standing roomon track with limited seating
GENERAL ADMISSION : $25.00
Grandstand seating- Alcohol will be allowed in the grandstand during this event
Reserved Box Seats: $35.00
TO PURCHaSE BOX SEATS,
PLEASE CALL THE FAIR OFFICE
AT (309) 364-2814.
(GRANDSTAND VIEW; BOX SEAT DIAGRAM)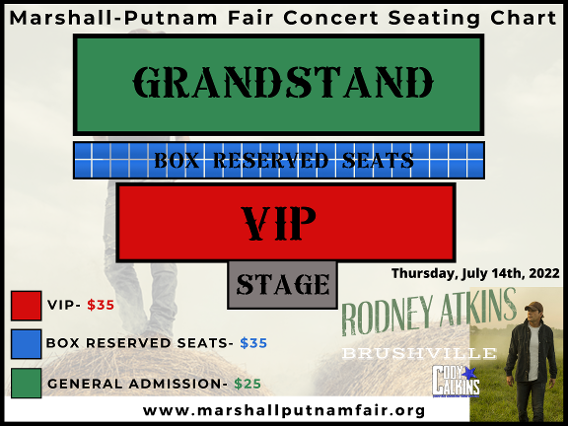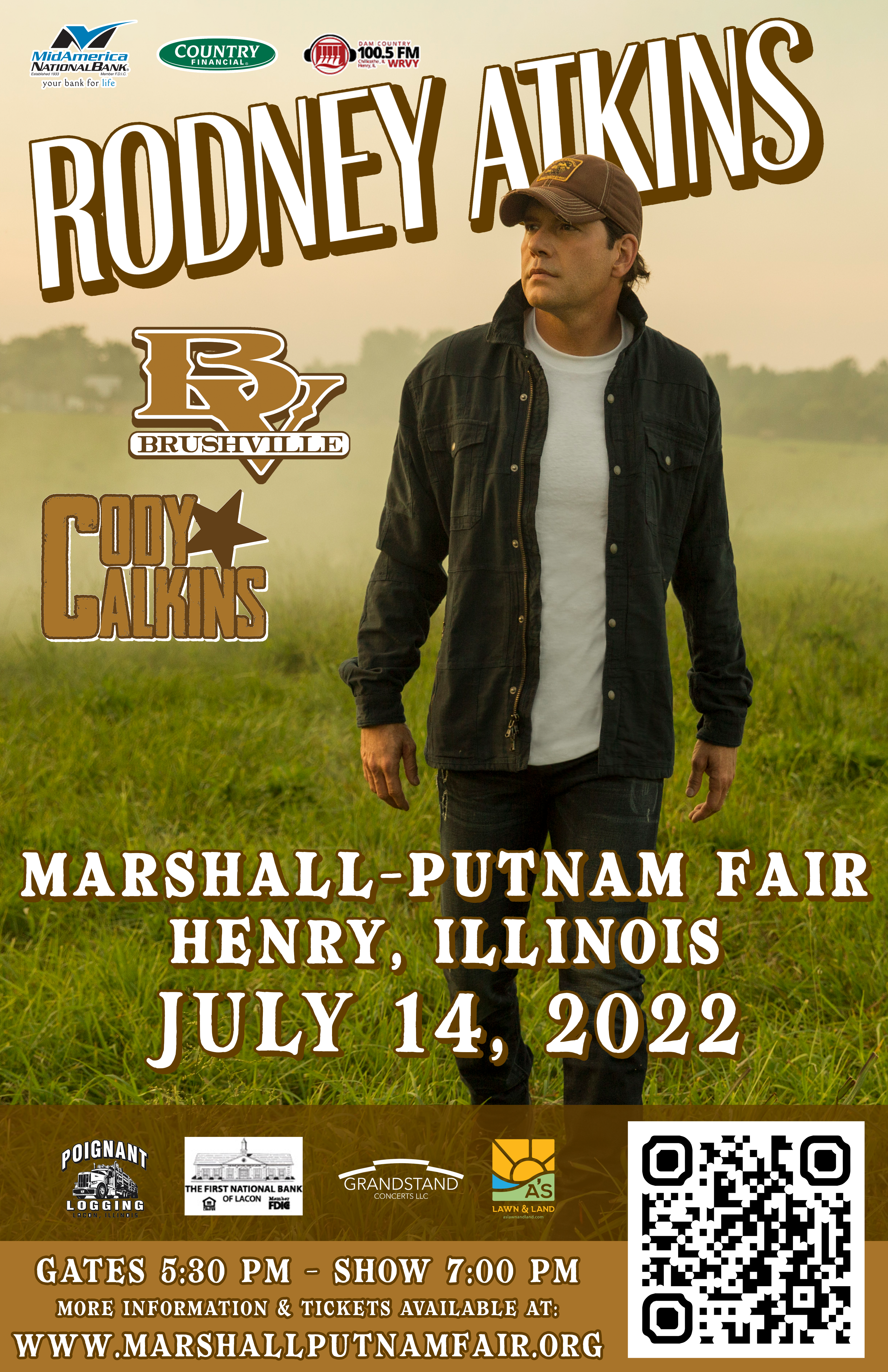 A Huge thank you to our concert sponsors!

HENRY, LACON, TOLUcA, & GRANVILLE
JONATHAN KRIEGHAUSER- LACON, STEVE VOGEL- HENRY, BILL FECHT- TOLUCA, MATT HOSTETTER- GRANVILLE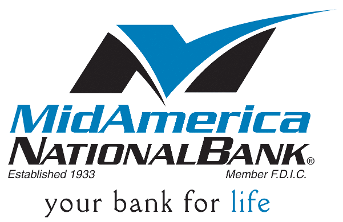 Interested in sponsoring the marshall-putnam fair? contact us!
RODNEY ALLAN ATKINS (BORN MARCH 28, 1969) IS AN AMERICAN COUNTRY MUSIC SINGER AND SONGWRITER. SIGNED TO CURB RECORDS IN 1996, HE CHARTED HIS FIRST SINGLE ON THE BILLBOARD COUNTRY CHART IN 1997, BUT DID NOT RELEASE AN ALBUM UNTIL 2003'S HONESTY, WHICH INCLUDED THE NUMBER 4 HIT "HONESTY (WRITE ME A LIST)". IF YOU'RE GOING THROUGH HELL, HIS SECOND ALBUM, WAS RELEASED IN 2006. ITS FIRST TWO SINGLES, "IF YOU'RE GOING THROUGH HELL (BEFORE THE DEVIL EVEN KNOWS)" AND "WATCHING YOU", EACH SPENT FOUR WEEKS AT NUMBER ONE THE COUNTRY MUSIC CHART, AND WERE RESPECTIVELY RANKED AS THE TOP COUNTRY SONGS OF 2006 AND 2007 ACCORDING TO BILLBOARD YEAR-END. THE ALBUM, WHICH HAS SINCE BEEN CERTIFIED PLATINUM IN THE UNITED STATES, PRODUCED TWO MORE NUMBER ONE SINGLES IN "THESE ARE MY PEOPLE" AND "CLEANING THIS GUN (COME ON IN BOY)". IT'S AMERICA (2009) INCLUDED THE NUMBER ONE SINGLE "IT'S AMERICA" AND THE TOP 5 HIT "FARMER'S DAUGHTER", WHICH WAS ADDED TO A LATER REISSUE OF THE ALBUM. TAKE A BACK ROAD (2011) PRODUCED HIS SIXTH NUMBER ONE IN ITS TITLE TRACK, AND 2019'S CAUGHT UP IN THE COUNTRY SET A RECORD FOR THE LONGEST RUN ON THE COUNTRY SINGLES CHARTS WITH ITS TITLE TRACK. ATKINS HAS RECEIVED SIX NOMINATIONS FROM THE ACADEMY OF COUNTRY MUSIC AND TWO FROM THE COUNTRY MUSIC ASSOCIATION, WINNING TOP NEW MALE VOCALIST FROM THE FORMER IN 2006.
· 6- #1 HITS
· 8- TOP TEN CHARTED SONGS
· OVER 2 BILLION STREAMS ON PANDORA RADIO ALONE
· EARNED 10 GOLD, PLATINUM, AND MULTI-PLATINUM RIAA CERTIFICATIONS
· RODNEY ATKINS WAS THE SECOND MOST-PLAYED SOLO MALE ARTIST OF THE DECADE OVERALL
· IN 2019, SET THE RECORD FOR THE LONGEST-RUNNING SINGLE IN BILLBOARD COUNTRY AIRPLAY HISTORY AT 57 STRAIGHT WEEKS FOR THE SONG "CAUGHT UP IN THE COUNTY"
· MOST WELL KNOWN SONGS INCLUDE: WATCHING YOU, IF YOU'RE GOING THROUGH HELL, THESE ARE MY PEOPLE, CLEANING TIS GUN (COME ON IN BOY), ITS AMERICA, TAKE A BACK ROAD, AND MANY MORE
THIS ISN'T JUST A BAND…IT'S AN EXPERIENCE.
Known for their LIVE shows. Brushville has been playing SOLD OUT shows because of their high energy performances. One reporter compared a Brushville show to a hockey game. "It was an engineering masterpiece as all members could switch out of one song mid-stream and into another seamlessly. It was like watching a hockey game where the players changed, but the action and the game clock kept rolling."
Brushville blends four extremely talented musicians, with incredible harmonies, an explosive stage show and a fresh, dynamic sound produced by an array of instruments to create an unforgettable experience for the audience. Brushville has been expanding their assault throughout the nation and is sure to be lighting up your area very shortly.
Cody Calkins is an American country music singer and songwriter from Streator, IL. Performing live since 2008, and releasing 3 studio albums along the way including the songs It's a Guy Thing, Monday Vacation and Fire, Stay at Work Dad, and much more. Cody has opened for chart topping national country acts such as Colin Raye, Granger Smith, and Joe Diffie. In 2012 Cody and his band won the Illinois Texaco Country Showdown. The following year he began to judge the event for 3 seasons. Cody Calkins has also continuously achieved success in winning The Best of North Central Illinois for 2019, 2020, and 2021.