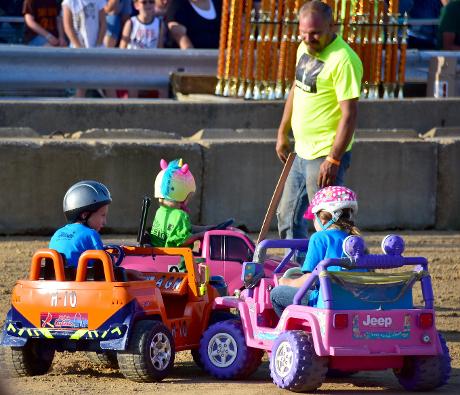 This derby is for the kids!
Kids must be 10 years old or under.
No batteries larger than a 12 volt lawn mower battery!
Battery must be secured and sealed away from the child.
Any regular electric Power Wheel is allowed.
Four-wheeler types are not allowed. Child's legs must be in compartment.
Ride in not ride on!
Motors must be stock - no adaptations or reinforcements - just decorations!
Tires can be wrapped in duct tape to keep them from breaking.
Participant must wear a helmet! Bike helmets are acceptable.
No Charge to Enter! Kids and parents must exit the grandstand following the Power Wheels Derby unless you purchase a general admittance bands.
Child must be registered by 6:00 pm. Approximate time of Derby will be 6:30 pm.