IMAGINATION ACRES
"Farming through the seasons"
&
AG Fun Things to Make & Take
celebrating m-p farm bureau's 100 anniversary!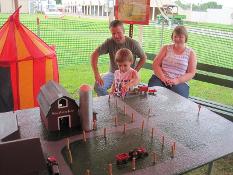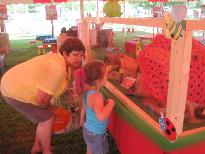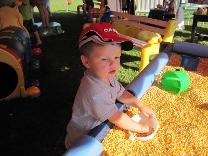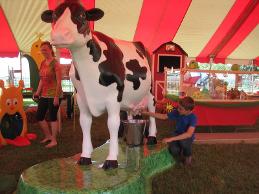 Sponsored by Marshall-Putnam Farm Bureau, Ed Hartwig Trucking & Excavating,
America's Farmers Grow Communities Fund, Steve Vogel - COUNTRY Financial Representative
New attractions include a 7 foot snow globe, a miniature covered wagon to travel west on the train complete with prairie animals and a camp fire!
imagination acres will be open:
WEDNESDAY, 4:00 PM - 8:00 PM - Come and enjoy a cold, old-fashioned bottle of root beer from 6:00 PM to 8:00 PM. Sit back, relax and enjoy the fair!
THURSDAY, Noon - 8:00 PM - Family Fun Night begins at 4:00 PM. Most events are free of charge! Register to win one of the three packs of tickets to Fondulac Farm Park in East Peoria to be drawn at the end of the night.
FRIDAY, Noon - 8:00 PM - Marshall-Putnam Farm Bureau 100th Anniversary T-Shirts will be handed out starting at 6:00 PM, until they are gone!
SATURDAY, 11:00 AM - 7:00 PM - Go back in time and enjoy old-fashioned games - potato sack races, checkers, marbles and more! Come and taste test some switchel, the 19th century energy drink! From 1:00 PM - 2:30 PM, Barry Cloyd and Sarah Arter will present, "Life on the Prairie" complete with banjo and fiddle music. Dress up in 19th century clothing and help us celebrate 100 years of service! Entertainment is sponsored by Steve Vogel, Financial Representative - Henry COUNTRY Financial.
SUNDAY, Noon - 3:00 PM - Last chance to enjoy the fair until next year!
AG FUN THINGS TO MAKE & TAKE

WEDNESDAY 6:00 - 7:00 PM
THURSDAY 6:00 - 7:00 PM
FRIDAY 5:00 - 7:00 PM
SATURDAY 5:00 - 6:30 PM
SUNDAY 12:30 - 1:30 PM
Sponsored by M-P Extension Ag in the Classroom &First State Bank of McNabb